Article MT076
Joe Rae: The Broom Blooms Bonny
Ballads, songs and stories from Ayrshire
---
[Track List] [Introduction] [The Songs] [Bibliography & Discography] [Credits]
Musical Traditions' third CD release of 2001: Joe Rae: The Broom Blooms Bonny (MTCD313), is now available. See our Records page for details. As a service to those who may not wish to buy the record, or who might find the small print hard to read, we have reproduced the relevant contents of the CD booklet here. As usual, photo credits can be seen by hovering the cursor over the picture.
Tracklist: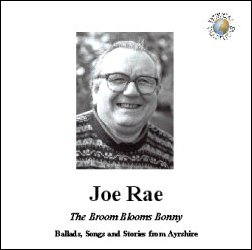 Ye'll Gang tae the Pawn
The Laird o' Roslyn's Doughter
Oor Young Lady
Tam McKissock and the Mermaid - Story
Sheath and Knife
Paul Jones
Achnachie Gordon
The White Worm o' the Clachan - Story
The Bonny Hind
Bogie Man
She Wadna Dae It
Katharine Johnston
The Carline Stane - Story
William and Lady Marjorie
The Auld Man's Fareweel
Introduction:
There is a small path to the side of Joe Rae's home where the poet Robert Tannahill once walked to visit his mother, then in service at a nearby big house. When Joe talks about Tannahill, or Robert Burns for that matter, it is as though he is talking of events that happened only a couple of weeks ago, and not a couple of centuries ago.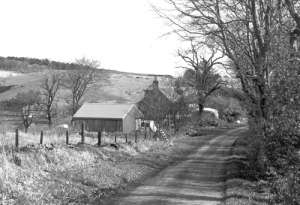 Look across the fields and you can see the Warlock Craggie that Tannahill mentions in his poem Sleeping Maggie. Look the other way and you can see a farmhouse that was once an inn which was run by one of Rob Roy MacGregor's relatives, and where Rob Roy himself would sometimes visit surreptitiously on a dark winter's night. It is, as some might say, very much a people landscape. Carry on past the house and Joe will point out all manner of things, from Neolithic burial sites and standing stones, to the remains of an 18th century flax-mill. The latter stands beside a lochan that often overflows its banks. "There's aye some watter where the stirkie droons" is how Joe puts it, using a local saying. A stirkie, for those Sassenachs like myself who might not be all that familiar with Joe's language, is a small cow. Interestingly, Joe later pointed out that the word sassenach was originally used by the Scottish Highlanders to describe Lowlanders, like himself, and not necessarily the English.

[This is very interesting for a number of reasons - principally regarding how wrong people can be about their neighbours. Sassenach merely means a Saxon man - so, while it might have been reasonable to so describe someone from Bernicia (now Berwick and Lothian), in southeast Scotland, it would be utterly inapropriate to someone from Stathclyde, in the southwest, where Joe lives. This area is mainly British (Celtic), with a Norse (Scandinavian) presence in the southern parts and a strong Irish (Celtic) one in the northern areas ... not a Saxon in sight! - Ed.]

On another occasion he told me that "It's no aye the rumbling cairt that coups first". Which means that it is not always the noisiest person who comes a cropper. And again, this is interesting because according to my Scots dictionary, the verb coup - meaning to overturn - is from the Shetland and Orkney Islands. Mention the word Doric - the language of North-East Scotland, especially Aberdeenshire - to Joe, and he will insist that much of this so-called language is no more than what he learnt himself as a child in Ayrshire. "Round here the old folk used to put the hay in a soo stack. That's a haystack that looks like a hoose. Now I'm told that the word soo comes from sow, and that was the word used in the Middle Ages when people used to attack castles. They used to build a sort of roof to hide under. That was the sow. And I've heard them use the same word, soo stack, on the radio when they were talking about Aberdeen fairmers." I am no linguist and can make no useful comment on the matter, but, like Joe, I do enjoy the sound of a language, and relish hearing him use so many wonderful words and expressions. How much more delightful it is to hear him say "The fat soo's erse is aye weel creeshed" (The fat sow's arse is well greased), instead of simply saying that "Those who have it will get more"!

Joe Rae's home stands a couple of miles to the east of Beith, at the foot of a brae where a clear spring provides a year-round water supply. Joe and his wife Jean, who is descended directly from Robert Burns, have lived there for over thirty years, although Joe is not originally from this part of Ayrshire.

Joe was born in Lanarkshire in 1937, between Davel and Strathaven, where the road goes by Bow Butts. His father, David Rae, was a ploughman at Rylandside Farm. Soon, though, the family moved into Ayrshire, to a farm at Sornhill. Joe learnt his first song - a single verse - when he was sitting in a tree with Davie Gibson, the gardener's boy, in a walled-garden at Cessnock Castle. The verse is sung to the tune The Wearing of the Green and probably refers to the feeing time, held annually, either on the 28th May or the 28th November.
O the term time is coming,
An soon I'll get my brass.
An if the fairmer wants me back,
I'll tell him tae lick ma arse.
Joe attended Barr Primary School in Galston, where he remembers an old lady who used to sit by the school gate smoking a cutty pipe, her head covered with a black shawl. Later he was at a one-room school close to Mairch Hoose (so-called because it was the boundary, or mairch, for three parishes), when his family moved yet again, seeking employment at another farm. One of David Rae's songs, Moffat Tryst, makes mention of the hiring system, although I doubt if many ploughboys fell quite on their feet as did the hero of this song!
Yae day I went tae Moffat tryst,
Moffat tryst tae fee-o.
It's there I met a bonny lass,
An this lass she said tae me-o.
Chorus:
Hi-ho my plooman lad,
My bonny blue-eyed laddie.
Come wi me, my plooman lad,
An I'll fee ye wi ma daddy.

Noo her faither was a worthy chiel,
He was a bonnet-laird-o.
He fee'd me for tae caa his horse
At the fairm o' Auchengairn-o.

Noo I caa'd his horse baith early and late,
And I woo'd his bonny lassie-o.
An noo I'm Laird o' Auchengairn,
An the bairns they sing tae me-o.

Sae aa ye ploomen lads tak tent,
Wi listening tae my story-o.
An gin ye meet a bonny lass,
Gae fee ye with her daddy-o.

yae = one; tryst (it rhymes with priced ) = a market or fair; caa = call or drive; tak tent = take heed.
In 1947 Joe's family moved to Mauchline, where Joe spent the next six months at school before finally completing his schooling at Cummock Academy. The town of Mauchline is well know to readers of Robert Burns. William Fisher, the Willie of Holy Willie's Prayer, was a farmer from Mauchline and two of Burns closest companions, the draper James Smith and the clerk John Richmond, also lived there. Richmond was the younger son of a local laird and, like Burns and Smith, had been obliged to do penance for fornication. Burns, Smith and Richmond were known locally as 'the ram-stam boys'. It was also in Mauchline that Burns visited a hotel des vagrants, a tavern and lodging house known as Poosie Nansie's, the occupants of which inspired him to compose his cantata The Jolly Beggars, which is perhaps better known under the title Love and Liberty.

Joe spent much of his youth with his maternal grandfather, John Rogerson, who worked as a shepherd at Blackside, just above Thorn. He worked at "the oot-bye places aifter ma grannie died" and it was from John that Joe first heard many of the songs, ballads and stories that he performs today. John started his working life when he was only ten, at "the Glen heid o' Glentrool - a Galloway sheep ferm that had mair stanes than grass. Round here there is a place Auchencloich, that's Gaelic for the field o' stanes, an I reckon that the ferm must have been like that. An the ferm wis sae big that it was measured in square miles - not in acres! In 1895, a hard, hard winter, they took to herding at the Back Hill o' the Bush, the farthest-oot hoose that was miles frae onywhere."

By the time Joe left school he had quite a sizeable repertoire of songs and stories that he had learnt from his parents and from his grandfather. He was fifteen when he started to work as an apprentice joiner, working under a country joiner outside Mauchline. Much of the work involved repairs to horse-drawn carts and Joe soon became proficient at making cartwheels. It was in the joiner's shop that Joe heard another joiner, Jimmy Gibson, singing Ye'll Gang Gey Often Tae the Pawn, the song which opens this CD.

Six years later Joe began working in a builder's office in Glasgow. Shortly afterwards he married and moved to the small village of Sorn, about three miles east of Mauchline. Sorn seems to have been a wonderful place for singers. Joe's next-door neighbour was a retired shepherd, Edward 'Ned' Robertson, who must have been born some time c.1885. Apparently Ned liked to sing long ballads, one being an emigration ballad called Campbell's Farewell tae New Crummock which Joe, much to his regret, never managed to learn. "I loed tae hear Ned sing that one, but somehow I could never get it mysel." Joe did, however, manage to learn The Bonny Hind, The Laird o' Roslyn's Doughter, Katharine Johnston and William and Lady Marjorie from Ned's singing. Another singer was Robert Thompson, a farm worker who was known locally as Hardy Bobbie. He knocked on the door late one night, probably after the pub was closed, saying, "I know ye like auld songs. Here's yin for ye." The song was The Auld Ferm Hoose, a song that Joe still likes to sing:
O the auld ferm hoose wi it's cosy theek o' straw,
Has sheltered mony a heid frae the nippin frost an snaw.
Wi it's kail yaird afore, an it's peat stack ahint,
A rowan tree tae fricht awa the witches and the wind.
There were twa collie dags, o they looked sae cant an crouse,
As if they were the Lairds o' the auld ferm hoose.

theek = roof; kail yaird = kitchen garden; ahint = behind; fricht = frighten; cant = lively; crouse = bold.
It was Hardy Bobbie who also sang the bawdy She Wadna Dae It. Joe remembers other such songs, The Hieland Tinker sung by Kenneth Parker, a byreman who had his own dairy, and The Thrashing Machine that Bill Hardy, a gamekeeper from Ravenstow, near Whithorn, used to sing.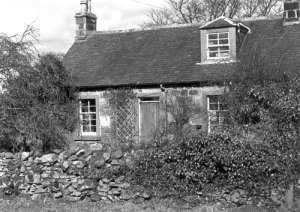 Joe and his wife lived in Sorn for four years before moving to their present home in Cauldhame near Beith. Their cottage dates to at least 1802, and may indeed have been built prior to this date. It was certainly standing when Burns was alive. Joe now owns his own joiners shop, a few miles away in Kilmalcolm, which he runs with the help of his sons; although a failed knee operation some months ago has left Joe unable to work and in considerable pain.
Joe recalls that for much of his early life there was no radio at home, so that when relatives, neighbours and friends gathered for a party, all the entertainment had to be home-made. Joe's mother would sing Bonny Susie Cleland, Come and See Oor Garrett and her favourite song My Nannie's Awa, which was written by Burns. One cousin preferred to sing Bonny Scotland I Adore Thee which he had learnt from a 78 gramophone record of John Patterson, Glasgow's 'Tramway Tenor'. "It was a real tear-jerker, just like We'd Better Bide Awee, that was another tear-jerker they used to sing." Other songs that Joe remembers from these get-togethers include Bonny Gallowa, Kirkconnel Lee, The Braes o' Kirkmahoe, Hame o' Mine, Braxfield Braes, The Drunkard's Raggit Wean, The Nameless Lassie, Willie's Gane Tae Melville Castle, The Rowan Tree, The Crooked Bawbee, Dark Loch na Ghar, Rede is the Rose, Huntingtower and two songs with the same title. One was a Scot's song The Auld Hoose. The other had the same name, but it was a different Irish song. Joe had no idea where another song, Bonny Braidlee, his father's favourite song, was from. That is, until he sang it at a Newcastleton Festival some years ago. "A fermer came up tae me afterwards and told me that Braidlee, Tyne and Gowan Burn, three places mentioned in the song, are the names of ferms around Newcastleton. So now I know where that one comes from."
Joe, like many Scottish singers, sings complete songs. There are very few fragmented texts in his repertory. And almost all of his songs and ballads are sung slowly to strikingly beautiful tunes. There is, I feel, a connection between all these things and the fact that his songs and ballads came to him directly from farmworkers and shepherds, especially the latter. Many of the early Scottish Covenanters - those people who wished the Scottish Church to break away from the English King Charles I, a man who believed in the Divine Right of Kings, an authoritarian creed that claimed the monarch was God's representative on earth and, therefore, his authority had divine sanction; a concept entirely counter to Protestant thought - were also shepherds, who had plenty of time to sit outdoors and read their Bible as they looked after their sheep. Both John Rogerson and Ned Robertson - not to mention that other great Scottish shepherd singer, Willie Scott - would have had ample time to sing their ballads over to themselves while walking the moors with their sheep. And, again like the Covenanters, these men were extremely literate, their ballad texts clearly connected to printed sources. Listen to what the American folklorist Alan Lomax had to say on this matter:
The Scots have the liveliest folk tradition of the British Isles, but paradoxically, it is the most bookish. Everywhere in Scotland I collected songs of written or bookish origin from country singers, and, on the other hand, I constantly encountered bookish Scotsmen who had good traditional versions of the finest folk songs. For this reason I have published songs which show every degree and kind of literary influence.
Lomax may also have been thinking of the renowned ballad-singer Anna Gordon who, as Mrs Brown of Falkland, is remembered for preserving some of the oldest Anglo-Scottish ballads, most of which were learnt before 1759. In 1972 David Buchan had this to say about Mrs Brown and her ballads:
We are faced with a paradox; the woman who preserved the finest representatives of the old oral tradition, the tradition of the nonliterate rural folk, was herself an educated woman, daughter of a Professor and wife of a minister.
Buchan, however, offers an answer to this apparent contradiction:
This paradox is, however, apparent rather than real, because it is possible, at a certain point in the tradition, for a person to be both literate and an oral composer. It is only when a person ceases to be re-creative along traditional lines and accepts the literate concept of the fixed text that he or she can no longer be classed as oral.
There is a story told of James Hogg's mother, which gives us an insight into the mind of a traditional singer. Mrs Hogg delighted Walter Scott by chanting the ballad of Auld Maitland. He asked her if it had ever been in print. "O na, na, sir", said she, "there never was ane o' my sangs prentit till ye prentit them yoursel', an' ye hae spoilt them a' the gither. They were made for singing, an no' for reading, an' they'll never be sung nae mair."

So, according to Buchan, the key-term is re-creation. Does a singer remember a text? Or does he, or she, re-create a ballad each time it is performed? We are told that Mrs Brown had learnt many of her ballads orally before she was 10 years old. And it was the same for Joe. The songs that came from his parents and grandfather were certainly learnt orally before he left school, aged 15. Ned Robertson's ballads came some years later and these too were learnt from Ned's singing. True, many of Ned's texts are similar to those published in the late 18th and early 19th centuries by the likes of Herd and Motherwell. But, we also have transcriptions for some of Joe's songs and ballads that were made about ten years ago by Sheila Douglas, and here we can see a number of differences from the texts that Joe sings on this CD. In other words, Joe's ballads reveal a literary influence from perhaps a couple of hundred years ago. But, they also show that there is still a re-creational element inherent in his singing of these ballads. They are truly living ballads and not simply texts.

Many of Joe's ballads and songs deal with the relationships between men and women - a perennial favourite with Burns, of course. So much so that when we hear him sing a song such as Paul Jones, which concerns a sea battle, we are at once struck by the dissonance of the piece, it being so unlike his other songs. But then, of course, the song Paul Jones is really a broadside ballad - a story set to music - and Joe clearly loves stories, whether they be sung or narrated. Interestingly, when Joe performs the ballad of Sir Patrick Spence (Child 58) he treats it as a spoken poem and not as a sung ballad; rather in the manner of the ballad Mary Hamilton (Child 173) which Jeannie Robertson always maintained had been recited like a poem by her ancestors.

Joe tells his folktales in a manner similar to the way that he sings his ballads, slowly and without too much dramatic 'show'. In saying this, though, I am not trying to deny Joe's great skill as a story-teller. Just listen, for example, to how he begins the story of Tam McKissock and the Mermaid, calling Tam "a small farmer", before saying, "I'll re-phrase that... Tam farmed on a small farm near the Solway Firth, 'cause he wis no a small man: he wis a fine, buirdly (burly) chiel." This is not, as one might first suspect, a mistake on Joe's part, but is an essential part of the story - a way to give added entertainment to the listener by way of a simple, but effective, piece of word-play. It may be that this is a reflection of Joe's personality - he is, after all, a quiet, thoughtful man - but, it may also be that this was the style of singing and storytelling that he inherited from the people who first sang and told him these ballads and tales. There are some ballad-singers and storytellers whose whole persona changes when they begin to perform - and, indeed, perform is the right word in these cases. But this is not Joe's style. Rather, he likes to let events unfold at their own slow pace so that the listener can grasp exactly what is going on. Some people, brought up in an increasingly fast-moving world, may find Joe's approach difficult, and hard to follow. Others though, will, I feel, come to appreciate Joe for the remarkable man that he is.

Some years ago Joe read about the Kinross Folk Festival in his local paper. (He is an avid reader whose house is full of books. He once told me that he finds it hard to walk past a second-hand bookshop when he is in Glasgow. But then, don't we all?) Prior to this he had been unaware of the folk revival in Scotland. He went to Kinross "to see what it was like", and whilst there met Sheila Douglas, who later visited him to record material for her books The Sang's the Thing (1992) and Come Gie's A Sang (1995). Sheila also encouraged Joe to join the Traditional Music & Song Association of Scotland (TMSA) and also to visit other Festivals, such as Newcastleton, and he has been invited to perform at the Scottish International Storytelling Festival, held annually in Edinburgh's Netherbow Centre. It should, perhaps, be mentioned here that the three tales told on this CD are among some of the shortest that he knows. Many of his tales take far, far longer to narrate.

Joe Rae is a proud, if extremely modest, bearer of his country's traditions. He belongs to a rapidly dwindling band of people who, had he lived in Japan, would have been designated a Living National Treasure. The pity is that we do not put enough value on people like Joe. But, then, perhaps this has always been the case. You never miss your water, 'til the well runs dry, as the old blues-singers used to say.

Mike Yates - July 2001
The Songs, Ballads and Stories:
Roud Numbers quoted are from the databases, The Folk Song Index and The Broadside Index, continually updated, compiled by Steve Roud. Currently containing almost 232,000 records between them, they are described by him as "extensive, but not yet exhaustive". Copies are held at: The Vaughan Williams Memorial Library, London; Taisce Ceoil Dúchais Éireann, Dublin; and the School of Scottish Studies, Edinburgh. They can also be purchased direct from Steve at Southwood, Maresfield Court, High Street, Maresfield, East Sussex, TN22 2EH, UK.
Child Numbers, where quoted, refer to entries in The English and Scottish Popular Ballads by Francis James Child, 1882-98. Laws Numbers, where quoted, refer to entries in American Balladry from British Broadsides by G Malcolm Laws Jr, 1957.
Most of the songs and stories contain Scots dialect words or pronunciations … I have printed them as they are sung or said rather than indicating any supposed 'missing' letters with an apostrophe - thus wi [with] is not rendered wi' … the same goes for kissin, rinnin, etc... However, the form o' [of] is so universally recognised that I have retained this with its apostrophe.

1 Ye'll Gang Tae the Pawn (Roud 16890)
O ye'll gang gey often tae the pawn,
Wi yer wee bit bundle in each haun.
O ye'll gang gey often tae the pawn,
The day ye mairry a jiner chiel.
For a wee bit bag'll haud your meal,
An ye'll gang gey often tae the deil.
O a wee bit bag'll haud your meal,
The day ye mairry a jiner chiel.

O' aa the trades that I dae ken
The jiners are the worst o' men.
An yeir guid days are at an end,
The day ye mairry a jiner chiel.
For ye'll gang gey often tae the pawn,
Wi yer wee bit bundle in each haun.
O ye'll gang gey often tae the pawn,
The day ye mairry a jiner chiel.
Set to the dance tune La Russe, Ye'll Gang tae the Pawn was sung many years ago by fellow joiner Jimmy Gibson "in the jiner's shop", though where Jimmy got the song from is anybody's guess.
2 The Laird o' Roslyn's Dochter (Captain Wedderburn's Courtship - Child 46, Roud 36)
The Laird o' Roslyn's dochter walked through the woods her lane,
And by came Captain Wedderburn, a servant tae the king.
Says he unto his serving men, "Were it not against the law,
I would tak her tae my ain bed and lay her neist the waa."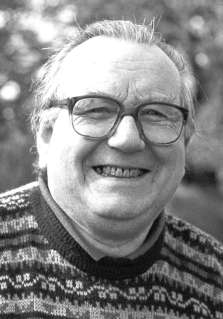 "I'm walking here alane," she says, "among my faither's trees,
And it's ye must let me walk alane, kind sir, now if ye please.
For the supper-bell it will be rung, and I'll be missed awa.
So I winna lie in your bed, either at stock or waa."
He says, "My pretty Lady, pray lend tae me your haun,
And ye shall hae drums and trumpets always at your command.
And fifty men tae gaird ye wi, right weel their swords can draw,
Sae we's baith lie in yae bed and ye's lie neist the waa."
"Noo haud your tongue, young man," she says, "O your fleechin noo gie ower,
Unless you'll find me ferlies, and that is ferlies fower.
O ferlies fower ye maun find tae me and that is twa times twa,
Or I'll nae lie in your bed, either at stock or waa."
"For it's ye must get tae me a fruit, that in December grew,
An it's ye must get tae me a goun, that waft was ne'er caaed through.
A sparrow's horn, a priest unborn, this nicht tae join us twa,
Or I'll nae lie in your bed, either at stock or waa."
"Weel, my faither he has winter fruit, that in December grew.
My mither she has an Indian goun, that waft was ne'er caaed through.
A sparrow's horn is quickly found, there's yin on ilka claw.
There's yin upon the neb o'him, perhaps there may be twa."
"Well, the priest is standing at the door, just ready tae come in.
Nae man can say that he was born, tae lie it were a sin.
For a wild boar ripped his mither's side, he oot o' it did fa.
Sae we's baith lie in yae bed, and ye's lie neist the waa."
O little kenned Grizzie Sinclair that morning when she raise,
That this would be the hindermaist o' aa her maiden days.
But noo there's nae within the realm, I think a blither twa,
And they baith lie in yae bed, and she lies neist the waa."
fleechin = flattering. ferlies = wonders. neb = beak. Grizzie = Grizelda.
Like Riddles Wisely Expounded (Child 1) and The Elphin Knight (Child 2), The Laird o' Roslyn's Dochter concerns a would-be suitor who can only gain his love by performing certain tasks, in this case by answering riddles. Professor Child noted that such ideas were ancient and once widespread across eastern Europe and the Middle East. One such example, which he quotes, is the Persian story of Prince Calaf who is given the task of answering the following three riddles:
"What is to be found in every land, is dear to all the world, and cannot endure a fellow?" Calaf answers, "The sun." "What mother swallows the children she has given birth to, as soon as they have attained their growth?" "The sea," says Calaf, "for the rivers that flow into it all come from it." "What is a tree that has all its leaves white on one side and black on the other?" "This tree," Calaf answers, "is the year, which is made up of days and nights."
The song I Gave My Love a Cherry also clearly belongs to this tradition, and is no doubt derived from the ballad. Joe learnt the ballad from Edward 'Ned' Robertson, a retired shephered who lived next door to Joe in Sorn and who would have been born sometime around 1885. The tune used by both Ned and Joe has been used to carry a number of songs and ballads over the years, the best known being the bothy song Drumdelgie.

Child mentions that the ballad was printed in an undated chapbook, Lord Roslin's Daughter's Garland, which runs to some eighteen verses. According to Joe, Ned's original version was also extremely long and Joe is aware that he never managed to get the full story from Ned.

Duncan Williamson sings another Scottish version (to the tune of Come All You Tramps and Hawkers) on the Veteran cassette VT128, while Irish singers Thomas Moran, Maggy Murphy and Willie Clancy sing versions on Rounder CD 1775, Veteran VT134CD and Topic TSCD651.

3 Oor Young Lady (Roud 899)

Oor young lady's a-huntin gane,
Hawk or hound she hasna tane.
She's borne her young son or she's come hame
An she's rowed him in her apron.

Her apron was o' the Hollands fine,
Rowed aroon wi the laces nine.
She was feart her babe wad tine,
So she's rowed him in her apron.

Her apron was o' the Hollands sma,
Rowed aroon wi the laces aa.
She was feart her babe wad faa,
So she's rowed him in her apron.

Her faither says within the haa,
Among the lords and nobles aa,
"I thocht I heard a bairnie caa
In oor young lady's chamber."

"O faither dear it is a bairn,
I trust that ye'll dae it nae hairm,
For the laddie I loed and he loed me again,
For the rowin it in my apron."

"O is he a lord or is he a loon,
This man wha brocht thy fair body doon?
I wadna hae't for aa in this toun,
The rowin it in thy apron."

"O young Terregles is nae loon,
He is the toss o' Edinbra toon.
Aye and he'll buy me a braw new goun,
For the rowin it in my apron."

It's oot and spak Lord Maxwell then,
He was the chief o' aa his kin.
"Wi my son Terregles ye shall be wad,
For the rowin it in thy apron."

"For it's I hae barns and I hae booers,
I hae castles and I hae toors.
And aa that is mine it shall be thine,
For the rowin it in thy apron."

tine = suffer. toss = toast. booers = bowers. toors = towers.

Robert Burns collected a set of this fine ballad in Dumfriesshire, under the title The Rowin't in her Apron, which he sent to Johnson for his Scots Musical Museum (1787 - 1803), where it is song number 424, in volume 5 of the collection. Interestingly, Joe's penultimate verse is missing from the Burns' version. Presumably Burns, or his informant, did not wish to upset the Maxwells, who would then have been an extremely powerful family.

The Rowin't in her Apron may be the forerunner of the English song Underneath Her Apron (which also, of course, turns up in Scotland. See the version called The Tamosher in Sheila Douglas's Come Gie's a Sang). Certainly the earliest known English broadside of Underneath Her Apron (issued by Ryle & Co. c.1830) postdates The Rowin 't in her Apron, and the English song does seem to omit much of the story that we find in Joe's version. Joe, who learnt the song from his grandfather, feels that Oor Young Lady possibly comes from Nithsdale - he sometimes calls it The Nithsdale Ballad - because the Maxwell Family originate from that part of Scotland. His tune, by the way, is a slowed-down version of one that has been used for other Scottish ballads, including Geordie (Child 209).

In fact, it seems certain that the ballad is from Nithsdale. When William, the third Lord Herries of Terregles, died in 1543 he was without sons. (The Herries had owned land in Nithsdale since the days of the Scottish King David the 2nd - who reigned from 1329 to 1371). William's eldest daughter Agnes Herries married Sir John Maxwell of Caerlaverock who, on William's death, assumed the additional title of Lord of Terregles. It would therefore seem likly that a subsequent Lord Maxwell could have had a son known as Terregles. And this, of course, begs the question, could our present song be based on an actual event? According to James A Mackay - in Robert Burns, The Complete Poetical Works (1997 edition) - the ballad deals, 'with the aftermath of the 1715 Rebellion' while 'Young Terreagles (sic) was John, Lord Maxwell who died in 1776'. Unfortuately, the John Maxwell who was alive in 1715, died four years later in 1719. There were subsequent John Maxwells in the 18th century, but none, to my knowledge, who died in 1776. So, again, we must ask the question, is the song based on an actual event?

For versions of Underneath Her Apron, see Good Order (Veteran VT140CD), where it is sung by Edgar Button, and A Broadside (Musical Traditions MTCD301-2), for Bob Hart's version.

4 Tam McKissock and the Mermaid

Well, this is a story aboot Tam McKissock - there's a grand Galloway name for ye - McKissock! Tam was a small farmer on a fairm near the Solway Firth. I'll rephrase that. Tam farmed on a small farm near the Solway Firth, 'cause he wis no a small man: he wis a fine buirdly chiel. But Tam had a want an whit wis it he wanted? Why, nothin mair than a fine sonsie lass tae keep his back warm in bed at nicht. But somehoo or ither he hadnae come across a lass that wis willin tae perform this important function. But he wis aye on the look-oot!

So ae weekend there came a great storm an it wis rain an gales an whitnot. An come the Monday mornin, ye ken, eften an awfu big storm, ye usually get an awfu guid day. Monday mornin, the blue sky, not a cloud in the sky. Tam rose an looks aroon an he decided he'd ging doon tae the seashore tae see whit the storm had cast up.

So doon he goes tae the seashore an he's plowterin aboot amang the rocks an that, an he comes roon behind this big rock an there sittin on a big stane, kaimin doon her gowden hair wi a siller kaim, wis a lass. Only wan problem - insteid o' a fine pair o' legs tae go wi her fine body, she'd a tail! It wis in fact a mermaid, but Tam - it wis a case o' ony port in a storm for Tam. He gaed forrit an he grippit this mermaid. She bein oot o' her element, she found it difficult tae get back tae the sea, so he'd nae bother grippin her.

So he's walkin alang the shore wi this mermaid in his airms, an he says, "Well, wumman, noo that A've grippit ye, ye ken whit A'm gaun tae dae? A'm gaun tae tak ye up by there an ye'll bide wi me an you an I'll get mairrit." Well, she drew a look a Tam an Tam near broke intae a run. "Naw, naw, Tam," she says, "it'll no dae, man," she says. "I have a man o' my ain doon by," she says, noddin to the sea. "Never mind," he says. "You'll bide wi me an you'll forget aboot that man o' yer ain doon in the sea there."

So he goes up intae the hoose. An, ken, the fairm kitchens in thae days - they had a built-in bed, wi doors on it. So he pops the mermaid intae the bed an sets aboot makin the breakfast. An they're crackin away fine an getting on fine an they've their breakfast. An Tam says, "Noo A've tae gan oot an see tae ma beasts. So," he says, "jist in case ye've an accident, A'll jist shut the doors o' the box bed." So he closed the doors an gaed away oot an seen tae his beasts an back in an opens the door an oh! they're gettin on fine! An this gaed on for aboot a week, until yae mornin, when Tam had been oot daein his beasts, he cam in an the doors o' the box-bed were lyin open an the mermaid wisnae there.

So he immediately knew where she wis. He couldnae hae locked the doors quite. But the night before there had been a bit o' a storm an the burn that ran doon by the gavel o' the hoose was rowin fu. So he goes, an sure enough, there's the mermaid swimmin in the burn. She gies a bit wave o' he han tae Tam an Tam waves back an she's swimmin away there like a troot. An finally Tam says, "Noo, ma bonny wumman, it's time ye were oot o' there an we'll tak ye back intae the hoose."

"Naw, naw, Tam," she says. "Ye hae grippt me wance, but ye'll no grip me twice. "But," she says, "ye ken, Tam, ye've been an affa kind man tae me, an if I hadnae a man o' my ain doon by," she says, "I wud hae bided wi ye fine. But," she says, "I'll tell ye that that'll make yer fortune. Listen carefully an take heed o' whit I'm gaun tae tell ye." An she says:
"Nettles in Mairch an muggart in May,
An sae many fair maids wadna gang tae the cley."
Noo this is whit the mermaid telt tae Tam. Now in thae days the scrouge o' the kintraeside wis the consumption. An it usually affected young lasses atween twelve an twinty. So Tam thought aboot this an set aboot brewin up this brew o' nettles an muggart. When he heard o' ony o' a neibor's lass gaun doon wi the consumption, he wad take a pint o' this brew away an he wad gar the lassie drink it. An as often as no, they recovered. So very soon they were comin fae far an wide tae Tam, an he couldnae get time tae dae ocht aboot the fairm for supplyin folk wi this brew that he made fae the nettles an the muggart. He decided it wis such a guid-gaun thing, he wad gie up his fairm an he moved intae Kirkcudbright an he tane a fine two-storey hoose wi a slated ruif, an he went aboot dressed like a gentleman. An very soon aa the young lassies o' the toun were settin their hats at him. An Tam tuik a luik at these young lassies, an he picked oot yin o' them. An he made shair she had guid pair o' legs tae go wi her fine body. He didnae want tae get anither lass wi a tail! An he picked oot this lassie an they were mairrit an they settled doon an lived happily ever after!

buirdly chiel = burly lad. sonsie = well-built, attractive. plowterin = splashing. kaim, kaiming = comb, combing. beasts = cattle. gavel = gable. rowin fu = rolling full. muggart = mugwort. cley = clay. scrouge = scourge. kintraeside = countryside. guid-gaun = flourishing.

As Joe rightly says, McKissock is a good Galloway name, and this story is firmly set within the Celtic tradition. No doubt, at one time, it was widely known throughout the Gaelic-speaking world.

5 Sheath and Knife (Child 16, Roud 3860)

O it's whispered in the kitchen and it's whispered in the hall,
O the broom blooms bonny, the broom blooms fair.
That the king's dochter gaes wi a bairnie tae her brother,
An they daurna gae doon tae the broom onymair.

He has taen his sister doon tae his faither's deer-park,
Wi a yew-tree bow and arrows all strapped tae his back.

"Weel, it's when that you hear me gie a lood, lood cry,
Shoot an arrow from your bow, it's there let me lie."

Weel, it's when that he's heard her gie that lood, lood cry,
A silver arrow from his bow he's suddenly let fly.

Then he has dug a grave, that was long, wide and deep,
And he's buried his ain sister, wi her bairnie at her breist.

Then he has gone back to his father's court-hall,
There was music, there was minstrels, ay dancing on the green.

"O Willie, my son Willie, what gies tae ye sic pain?"
"I hae lost a sheath and knife, I can never find again."
"There are ships of your father's, all sailing on the sea,
But sic a sheath and knife, they can never bring tae me."
According to Professor Child, both Robert Burns and Sir Walter Scott knew versions of this ballad, which appears to be known only from the late 18th and early 19th century. Child also notes the similarity of the story to that of other ballads, such as The Bonny Hind (Child 50) - which Joe Rae also sings - Lizzy Wan (Child 51), and The King's Dochter Lady Jean (Child 52). It may also be that Packie Manus Byrne's The Rich Man's Daughter can be added to this group of ballads. (The Rich Man's Daughter was included on Packie's now deleted Topic album Songs of a Donegal Man Topic 12TS257).
The directions for finding a burial site - verses 4 & 5 - are similar to those given by Robin Hood in the ballad Robin Hood's Death and Burial (quoted by Child in his notes to Sheath and Knife):
But give me my bent bow in my hand,
And a broad arrow I'll let flee,
And where this arrow is taken up
There shall my grave diggd (sic) be.
In parts of India there is a belief that a loosed arrow will land where a young man will find his intended bride.
Joe learnt Sheath and Knife over thirty years ago from the friend of a work colleague, who was then living in Glasgow and whose name he no longer remembers.
6 Paul Jones (Laws A4, Roud 967)
An American frigate, Bonhomme Richard by name,
Mounted forty-four guns, and from New York she came.
To sail in the Channel of old England's fame,
With a noble commander, Paul Jones was his name.
Ere we had lang cruised two sail we espied,
A large forty-four and a twenty beside.
Fifty fine shippin, we'll loadit wi stores.
And the convoy stood in for the old Yorkshire shores.
About the hour of twelve we come alongside,
With a long speaking-trumpet, "Whence come you?" he cried.
"Come answer me quickly, I'll hail you no more,
Or else a broadside into you I will pour."
Well we fought them four glasses, four glasses so hot,
'Til forty brave seamen lay dead on the spot.
And fifty-five more they lie bleeding in gore,
While Paul Jones's thunderous cannon did roar.
The carpenter, frighten'd, to Paul Jones did say:
"Our ship leaks in water since fighting today."
Paul Jones he made answer in the height o' his pride:
"If we can do no better, then we'll sink alangside."
Paul Jones he then smiled, to his men he did say:
"Let every man stand to the best of his play."
Then broadside for broadside we fought on the main,
Like two buckskin heroes, we returned it again.
The Serapis sworl round, our ship for to take,
Which caused the proud heart of the English to ache.
Our shot flew so hot, they could not stand it long,
'Til the bold British colours from the English came down.
Then hurrah my brave boys, we have taen a fine prize,
A large forty-four and a twenty likewise.
God pity the poor mothers that have reason to weep,
For the loss of their sons in the fathomless deep.
sworl = swirled/twisted.
John Paul Jones, born July 6, 1747, in Kirkcudbright, Scotland, was the son of a Scottish gardener. Originally named John Paul, at the age of 12 he entered the British merchant navy, going to sea for the first time as a cabin boy. He sailed aboard merchantmen and slavers, becoming a first mate on a slaver brigantine by 1766 and receiving his first command in 1769. In 1773, as the commander of a merchant vessel, he killed a mutinous crewman at Tobago in the West Indies and, rather than stay in prison and wait for trial, he fled to North America. From that point on the British considered him to be a pirate and, in order to conceal his identity, he changed his name to Paul Jones.
In 1775, at the outbreak of what was to become the American War of Independence, John Paul Jones went to Philadelphia and, with the help of two members of the Continental Congress, obtained a lieutenant's commission in the Continental Navy. The following year he became captain of the sloop Providence and destroyed the British fisheries in Nova Scotia and captured sixteen British prize ships. In 1777 he took command of the sloop Ranger. Sailing to France in 1778, Jones received from the French the first salute given to the new American flag by a foreign warship. During the spring he terrorised the coastal population of Scotland and England by making daring raids ashore and destroying many British vessels. His reputation in Paris greatly enhanced, Jones received from the French government a converted French merchantman, the Duras, which he renamed Bonhomme Richard.
Jones was then promoted to commodore and placed in command of a mixed fleet of American and French ships. Setting sail at the head of this small squadron on August 14, 1779, he captured seventeen merchantmen off the British coast and, on September 23, fell in with a convoy of British merchant vessels escorted by H.M.S. Serapis and Countess of Scarborough. The ensuing battle, fought off Flamborough, is the subject of Joe's song.
Challenging Serapis, Jones deftly maneuvered Bonhomme Richard alongside the larger British vessel and lashed the two ships together. With the muzzles of their guns touching, the two warships fired into each other's sides. Although his smaller vessel was on fire and sinking, Jones rejected the British demand for surrender, allegedly saying, "I have not yet begun to fight." Three hours later the Serapis surrendered.
Although hailed as a hero in both Paris and Philadelphia, Jones encountered such stiff political rivalry at home that he never again held a major American command at sea. In 1788 Catherine the Great of Russia appointed him rear admiral in the Russian navy. He took a leading part in the Black Sea campaign against the Ottoman Turks, but, again his success was marred by jealousy and rivalry. In 1790 Jones retired to live in Paris.
Two years later he was appointed U.S. Consul to Algiers, but died on July 18, before his commision arrived. He was buried in Paris and in 1905 his remains were removed to America. In 1913 he was finally interred in the US Naval Academy Chapel at Anapolis, Maryland.
Sets of Paul Jones have been noted by a number of English collectors, including Baring-Gould and W A Barrett - often to a tune different from Villikins and Dinah, which Joe uses. Not surprisingly, it has also turned up repeatedly on the lips of American singers. Charles K Tillett, for example, of Wanchese, NC., sings a couple of verses on the album Nothing Seems Better To Me - The Warner Collection, Volume 2 (Appleseed APR CD1036). This is another of the songs that Joe had from his grandfather.
7 Achnachie Gordon (Lord Saltoun and Auchanachie - Child 239, Roud 102)
Achnachie Gordon is bonny and braw,
He would tempt ony woman that ever he saw.
He would tempt ony woman, sae has he tempted me,
And I'll dee if I getna my love Achnachie.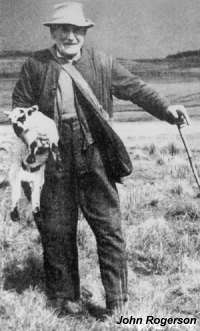 In comes her faither skipping on the floor,
Says, "Jeannie, you are trying the tricks of a whore.
Ye're carin for them that cares naething for thee.
Ye maun mairry Saltoun, forget Achnachie."

"Achnachie Gordon he is but a man,
Although he be pretty, whaur lies his free land?
Saltoun's houms they lie bonny, his toors they stand hie,
Ye maun mairry Saltoun, forget Achnachie."

"Ye that are my parents to church may me bring,
But unto young Saltoun I'll ne'er bear a son.
For son or for daughter I'll ne'er bow my knee,
And I'll dee if I getna my love Achnachie."

When Jeannie was mairrit from church was brocht hame,
When wi aa her maidens sae merry should hae been.
When wi aa her maidens sae merry should hae been,
She's called for a chamber to weep there her lane.

"Come to your bed, Jeannie, my honey and my sweet,
For to style you mistress, I do not think it meet."
"Mistress or Jeannie, it is aa yin tae me,
For it's in your bed, Saltoun, I never will be."

Then oot spak her faither, he spak with renown,"
Some o' you that are her maidens, ye'll loose aff her goun.
Some o' you that are her maidens, ye'll loose aff her goun,
And I'll mend the mairriage wi ten thousand croon."

Then yin o' her maidens they loosed aff her goun,
But bonny Jeannie Gordon she fell in a swoon.
She fell in a swoon low down by their knee,
Sayin, "Look on, I dee for my love Achnachie."

That very same mornin Miss Jeannie did dee,
Aye and hame come Achnachie, hame frae the sea.
Her faither and mither welcomed him at the yett,
He said, "Where's Miss Jeannie that she's nae here yet?"

Then forth come her maidens all wringing their hauns,
Sayin, "Alas for your staying sae lang frae the land.
Sae lang frae the land and sae lang frae the fleed,
They hae wadded your Jeannie and noo she is deid."

"Some o' you that are maidens, tak me by the haund,
An show me the chamber that Jeannie dee'd in."
He's kissed her cauld lips that were caulder than stane,
An he's dee'd in the chamber that Jeannie dee'd in.
houms = low-lying land by a river.
This ballad, from the far north-east of Scotland - the Gordon family estate was near Elgin, while the Frasers of Saltoun lived at Philorth, near Fraserborough - tells a story that is relatively common in folksong and folklore; namely the forced marriage of a young girl to a rich suitor, so that her family may benefit from the family's estate. In this case the girl dies, as does her truelove when he returns from sea and is shown her corpse. John Rogerson, Joe's grandfather, learnt the ballad in South Africa, where it was sung by a fellow Gordon Highlander sometime during the Boer War.
According to Sheila Douglas: 'The pronunciation of Auchanachie has to be seen in the context of Gaelic, from which it comes. A broad vowel must be followed by a broad vowel in the spelling of a word (and a narrow vowel by a narrow) and these extra vowels are not pronounced. The pronunciation today is Annachie - often aspirated consonants disappear in spoken Gaelic.'
8 The White Worm o' the Clachan
Doon in Galloway, ye've got many clachans. Ye've got Clachan Easy, Clachan Pluck, Clachan Trool and Clachan Boarg. But there's yae place that's kent as the Clachan, that's Dalry - or tae gie its Sunday name - St John's Toun o' Dalry. Jist a wee bit tae the west o' Dalry on the banks o' the River Ken, there is a munt - that is, an ancient burial mount. An roon aboot the bottom o' this munt, there's a ditch. An away back in days gone by, this ditch was the home of a large white worm. An it wad lie there in the ditch wi its tail in the watter at yae end, an its heid in the boat weel - that was where the ferry across the River Ken wis, at the top end.
Well, [when] this white worm got kin o' hungry, it wid snoovie away up tae the Clachan an it wad eat up aa the dogs an cats an calves an it wadna chow onythin less than a three quarter stot. The it wid snoovle away back tae its ditch an it wid lie there an sleep. So the folk got that they wid take food doon tae the worm, tae keep it frae eatin aa their animals. An they aye made shair they kept it fed. Once a day they wid take doon enough feed tae keep it gaun tae the next day.
Ae day, the worm's lyin there in its ditch an come dennertime naebody appears. And an oor later it's raisin its heid an lookin aa roon - there's naebody appeared wi ocht tae eat. So it goes snoovlin away up tae the Clachan an there's not a cat nor a dog, nor a calf, nor ocht at aa for it tae eat, so it ends up in the kirkyaird, in the graveyaird. There's a new dug grave, so it snoovles oot the earth wi its nose an exposes the corpse that was - in thae days ye didnae hiv coffins - it wis jist wrapt in a shroud. It swallies this body an goes away back doon tae its ditch tae sleep.
Noo it turned oot that this grave wis the grave o' the wife o' the blacksmith, Malcolm Fleeman. An [when] Malcolm discovered that his wife's body had been taken away oot the grave, he wisnae a happy man. Because when she'd been leevin, he'd allooed nae man tae lay a finger on her, an he wis damnt shair he wisnae gonnae alloo anything tae happen tae her when she wis deid. So he set tae in his smiddy an he made up himsel like a coat of mail made up o' knife blades. An he made them spring-loaded, so that when he birslet up they would jump oot like the progles o' a hurcheon, that is, like the spines of a hedgehog.
So he gets this coat o' mail on an he takes a gully in each hand and a way doon tae the munt he goes, an the white worm is lyin there sleepin, so he gies it a bit poke wi one o' the gullies. The worm opens its ee an kin o' looks at him then it jist goes whoof! an swallowed him, knocked the braith clean oot him. So he's lyin inside this big white worm braithless, when he comes tae himself. He sort o' birsles up an aa these blades spring oot, an he rowes roon aboot, an he's cuttin here wi yae gully an cuttin here wi anither gully, until the worm's deid. Then he cuts his wey oot an aa the folk fae the Clachan are doon roon aboot an they aa take tae leatherin this white worm wi their sticks. They're fine - an they werenae feart when it wis deid, but they had nae notion o' interferin wi it when it wis leevin. They leathered away at it, onyway, so they eventually cut it up intae bits an it threw it in the river, an it floated away doon the river intae Loch Ken. An tae this day, when a bone or ony kin o' unusual shape is fun, folk'll tell ye, that's yin o' the bones o' the white worm o' the Clachan.
clachan = small village. yae = one. boat weel = boat pool. snoovle = crawl. stot = bullock. birsle, birslet = bristle, bristled (with anger). progles o' a hurcheon = spines of a hedgehog. gully = knife. leatherin = berating. feart = afraid.
The White Worm o'the Clachan belongs to a class of stories and ballads that was once widespread throughout northern England and Scotland. In Kemp Owyne (Child 34) and the related Laidley Worm of Spindleston Heughs (laidley = loathsome) a beautiful young girl is transformed into a worm by her jealous step-mother. In this case, the girl is only freed from her transformation when she receives a kiss from Kemp Owyne.
Roy Palmer prints another ballad The Lambton Worm in his Book of British Ballads (1980. Reprinted 1998). According to Roy, 'In the Middle Ages the Lambtons lived in a castle near the village of Penshaw in County Durham. The story goes that the young heir caught a strange-looking worm in the River Weir and threw it in a well. During Lambton's long absence on a crusade in the Holy Land the worm grew to a tremendous size and terrorised the whole district.
Attemps to kill it failed because whenever the monster was cut in two, the halves joined together again. On his return home, acting on the advice of a witch, Lambton succeeded in killing the worm by covering his armour with razors and standing in the river. When the worm wrapped itself round him it was cut into pieces, which were carried away by the current and prevented from joining up again. The price of the witch's advice was a promise that Lambton would kill the first creature to meet him after the battle. He had arranged that his father should release a dog, but the old man forgot to do so, and rushed out himself. Naturally, Lambton refused to kill him, but in so doing, incurred the witch's curse that his successors would die violently - which seems to have come true.'
9 The Bonny Hind (Child 50, Roud 205)
Oh may she comes, and may she goes,
Doon by yon gairdens green.
And it's there she spied a brisk young squire,
As squire had ever been.

And may she comes and may she goes,
Doon by yon hollin tree.
And it's there she spied a brisk young squire,
And a brisk young squire was he.

"Gie me your green manteel, fair maid.
Gie me your maidenheid.
If you'll ne'er gie me your green manteel,
Gie me your maidenheid."

He's taen her by the milk-white hand
And by the grass-green sleeve.
And he has taen his will o' her,
He's asked nae her leave.

"Perhaps there may be bairns, kind sir.
Perhaps there may be nane.
But if you be a gentleman
You'll tell tae me your name."

"Some call me John when I'm abroad,
Sometimes they call me Jack.
But when I'm in my faither's toor
Jock Randal is my name."

"Ye lee, ye lee, ye lee your loud.
Full loud I hear ye lee.
For I'm Lord Randal's yae dochter.
He has nae mair nor me."



"Ye lee, ye lee, ye bonny may.
Full loud's I hear ye lee.
For I'm Lord Randal's yae son,
New come frae the sea."

She's putten her hand doon by her gair,
And she's taen oot a knife.
She's putten it in her heart's bluid,
And taen awa her life.

Oh he's taen up his bonny sister,
Wi the big tear in his ee.
And he has buried his bonny sister,
Beneath the hollin tree.

And syne he's hied him o'er the lea,
His faither dear tae see.
"Sayin O and O for my bonny hind,
Beneath the hollin tree."

"What needs ye care for your bonny hind?
For it ye needna care.
Tak ye the best, gi me the warst,
Since plenty is tae spare."

"I care na for your hinds, my Lord.
I care na for your fee.
But O and O for my bonny hind,
Beneath the hollin tree."

"O were ye at your sister's bower?
Your sister fair tae see.
Ye'd think nae mair o' your bonny hind,
Beneath yon hollin tree."

O he has heid him tae the toor,
His faither's toor sae hie.
Saying, "Fare ye weel, my faither dear,
Ye's get nae mair frae me."
Spoken: And he threw himself aff the castle wall.

gair = a triangular opening in a garment. hollin = holly. manteel = mantle. lee = lie.
Professor Child prints only one version of this ballad, 'Copied from the mouth of a milkmaid ... in 1771', although he does compare it to other Scandinavian ballads. 'In the first half of the story The Bonny Hind comes very near to the fine Scandinavian ballad of Margaret, as yet known to be preserved only in Faroe and Icelandic. The conclusions differ altogether. Margaret in the Faroe ballad ... is the only daughter of the Norwegian king Magnus, and has been put in a convent. After two or three months she longs to see her father's house again. On her way thither she is assaulted by a young noble with extreme violence, to whom she says:
Now you have torn off all my clothes, and done me sin and shame,
I beg you, before God most high, tell me what is your name.
Magnus, he answers, is his father, and Gertrude his mother, and he himself is Olaf, and was brought up in the woods. By this she recognizes that he is her own brother. Olaf begs her to go back to the convent, and say nothing, bearing her sorrow as she may. This she does. But every autumn the king makes a feast, and invites to it all the nuns in the cloister. Margaret is missed, and asked for. "Is she sick or dead? Why does she not come to the feast, like other merry dames?" The wicked abbess answers, "Your daughter is neither sick nor dead; she goes with child, like other merry dames." The king rides off to the cloisters, encounters his daughter, and demands who is the father of her child. She replies that she will sooner die than tell. The king leaves her in wrath, but returns presently, resolved to burn the convent, and Margaret in it. Olaf comes from the wood, tired and weary, sees the cloister burning, and quenches the flames with his heart's blood.' According to Child, the Icelandic version is identical, except for the fact that it is the brother who brings on the discovery by asking the woman's parentage.
Child also cites a similarity between Joe's ballad and the Finnish story of Kullervo, which forms part of the national epic of the Finns, the Kalevala - an epic which also shows connections to other ballads, such as Edward (Child 13), The Twa Brothers (Child 49) and, possibly, Lizzy Wan (Child 51).
Verses 5 and 6 of Joe's version, in common with the version that Child printed from the Herd mss, seem to have been added from another ballad, possibly Tam Lin (Child 39) or The Knight and the Shepherd's Daughter (Child 110). This was another ballad that Joe learnt from Ned Robertson.
10 Bogie Man (Roud 966)
Gyang awa frae the windae, bogie man.
Gyang awa frae the windae, bogie man.
It was the wind and the rain,
that brought your daddie hame.
So, gyang awa frae the windae, bogie man.
Spoken: That's all I can remember of that. I think that's the chorus of the song and when I did ask my mother she was too old... she couldna remember the rest of the words, but she told me that the story was that the young wife was having a visitor when her husband was away...and if the husband was at home she'd stand at the window with a bairn in her arm...and sing the song tae warn him not tae come in...that's it.
Here Joe sings a fragment of the once well-known, and widespread, song Go from the Window, My Love Go. It was printed in 1587-88 by John Wolfe of London and a set of variations of the tune current in the late 16th century was composed by either John Mundy or Thomas Morley and included in the Fitzwilliam Virginal Book. The song also appears in Act III of Beaumont and Fletcher's play The Knight of the Burning Pestle.
Versions have been collected from various English singers over the years, but very few Scottish singers seem to have had the song. Jeannie Robertson had a version, as did a singer called John Hunter from Fife. A version that was recorded from a Gloucestershire gypsy, Wisdom Smith, can be heard on the CD Band of Gold (Musical Traditions MTCD307).
11 She Wadna Dae It (Roud 16891)
O when I was but a halflin, an wrocht for meal and kail,
My mistress bein young and swat, my maister old and grey.
Then it's aft I speired the mistress when the old man was away.

But she wadna dae it, she wadna dae it, she wadna dae it ava,
In the bed, oot the bed, or up against the waa.
O she wadna dae it, she wadna dae it, she wadna dae it ava,
In the bed, oot the bed, or up against the waa.

O when I got on for sixteen years, a stoot and sturdy chiel,
My mistress bein a thumpin queen, she danced a hieland reel.
"Then mistress, noo the time is come when I maun ploo a dreel."

But she wadna dae it, she wadna dae it, she wadna dae it ava,
In the bed, oot the bed, or up against the waa.
O she wadna dae it, she wadna dae it, she wadna dae it ava,
In the bed, oot the bed, or up against the waa.

O when I got on for echteen years, a heid abin them aa,
My mistress she being unco skeich, my maister being awa.
Then I took her in my airms, boys, and laid her neist the waa.

And it's then we did it, then we did it, then we did it aa,
In the bed, oot the bed, or up against the waa.
It's then we did it, then we did it, then we did it aa,
In the bed, oot the bed, and up against the waa.

O when I got on for nineteen years, my heid was hingin low,
My mistress she bein rowin fou, but my maister quite joco.
It's when they speired the question then, twas aye she answered, "No."

For she couldna dae it, she couldna dae it, she couldna dae it ava,
In the bed, oot the bed, or up against the waa.
O she couldna dae it, she couldna dae it, she couldna dae it ava,
In the bed, oot the bed, or up against the waa.

Spoken: The Rakes Progress, right enough.
halflin = a half-grown boy (especially a farmworker). wrocht = worked. swat = sweet. speired = siad, asked. stuit = stout. thumpin queen = strapping wench. unco skeich = very frisky. rowin fu = rolling full, i.e. pregnant. joco = merry/pleased with himself.
There has long been a 'wee thread o' blue' running through the Scottish folksong repertory, as Robert Burns's Merry Muses of Caledonia (1800) or Peter Buchan's Secret Songs of Silence (c.1832) attest. Joe knows three such songs, The Thrashing Machine, The Hieland Tinker and She Wadna Dae It, the latter which he learnt over forty years ago from Robert Thompson, a farmworker from Sorn who was known locally as 'Hardy Bobbie'. A similar, but discrete, English song The Farmer's Servant or Rap-a-Tap-Tap, has been recorded from a number of singers, including Bob Hart (Musical Traditions MTCD301-2) and Harry Cox (Rounder 1839). Joe says that as late as the 1960s songs such as She Wadna Dae It would be sung openly on a Saturday night in many Ayreshire pubs, which, even then, were exclusive male domains.
12 Katharine Johnston (Katharine Jaffray - Child 221, Roud 93)
There lived a lass doon in yon glen,
As I have heard men say.
Her name was Katharine Johnston,
Well known tae many men.

Doon come the Laird o'Lamington,
Doon tae the sooth countrie.
And he is for this bonny lass,
Her bridegroom for tae be.

He speirt her faither, he speirt her mother,
The chief o' aa her kin.
And syne he speirt the lass hersel
And did her favour win.

Doon come an English gentleman,
Doon from the English border;
And he is for this bonny lass,
Tae keep his hoose in order.

He speirt her faither, he speirt her mother,
As I do hear them say.
But he never speirt the lass hersel,
Until her waddin day.

Then she has written a letter,
And sealed it wi her hand.
And sent it to Laird Lamington,
Tae let him understand.

The first line o' the letter he read,
A lood, lood laugh gaed he.
But ere he read the letter o'er,
Man, the saut tear blint his ee.

Then he has sent a messenger
And oot through all his lands,
And four and twenty gentlemen
Were aa at his command.

And they're awa tae the waddin hoose,
Tae see whit they could see.
And when they come tae the waddin hoose,
He left his men on the lea.

Oh it's, "Come ye here for sport, young man?
Or come ye here for play?
Or it's come ye for oor bonny bride,
On this her waddin day?"



"I come na here for sport," he said.
"Neither did I for play.
But for one word o' your bonny bride,
I'll mount and gyang away."

Well the first word that he speirt at her
Was aye she answered "Nae."
And the neist word that he speirt at her,
Was, "Mount and come away."

Well it's up the Cooden Banks,
And doon the Cooden Braes.
And it's aye she garred the trumpet sound,
Oh, it's aa fair play.

Oh, mickle was the blood was shed
Upon the Cooden Braes.
And it's aye she gard the trumpet sound,
Oh, it's aa fair play.

So come all ye English gentlemen,
That are of England born.
Come na doon tae Scotland,
For fear ye get the scorn.

They'll feed ye up wi flatterin words,
And that is foul play.
And they'll feed ye frogs instead o' fish,
Just for your waddin day.

syne = next. speirt = asked. blint = blinded. garred = made, instructed. In this ballad, two Lords court the same girl. Sometimes both Lords are from Scotland. At other times, as in this version, one Lord is from England and when this occurs the English Lord inevitably fails to gain the girl's hand in marriage. Sir Walter Scott's poem Lochinvar is, of course, modelled on the same story.
In 1906 Cecil Sharp collected a song The Green Wedding from Robert Parish of Exford in Somerset. We know that Sharp was something of a 'twitcher' when it came to adding Child numbers to his collection, and, seeing a similarity between The Green Wedding and Katharine Jaffray, he was only too happy to call The Green Wedding a version of our present ballad. In fact, Professor Child was aware of The Green Wedding and he printed part of the text in his notes to Katharine Jaffray. He did not, however, print the text alongside the versions that he printed under the title Katharine Jaffray, a fact that suggests that Child had doubts about whether or not it was a version of the ballad, or merely a song which closely resembled the ballad's story. This is yet another ballad that Joe had from Ned Robertson, who, much to Joe's regret, was probably never recorded.
Versions of The Green Wedding can be heard sung by Thomas Moran and Cecilia Costello on volume two of Classic Ballads of Britain and Ireland (Rounder 11661-1776-2), and by Nora Cleary on volume six of The Voice of the People (Topic TSCD656). A Nova Scotian version of Katharine Jaffray, collected in 1931 in the form of a cante-fable, was reprinted in Edith Fowke's book Tales Told In Canada (Toronto, 1986. pp. 59 - 60.)
13 The Carline Stane
Well, ye'll hae heard o' the Falls o' Clyde, that's the waterfalls at New Lanark. Aboot a thir o' a mile doonstream fae the last fall, there's a great big - or there was a great big stone in the middle o' the River Clyde. In the old days, aa the natural features o' the countryside were named, and this big stone was caaed the Carline Stane. Noo immediately below the Carline Stane, jist as ye wad expect, was the Gaun Weel. The Gaun Weel of coorse was a whirlpool. But it couldnae hae been too violent, because it was the favourite soomin hole for aa the young men i the district. In the simmer time they wad dae aa their swimmin in the Gaun Weel.
But aeyear there cam tae bide in the Gaun Weel a water kelpie. The water kelpie was a kin o' wee hairy man - a bad spirit. An this water kelpie came tae live in the fit o' the Gaun Weel. It wad be standin there in the bottom o' the river an it would now and again catch the leg o' a swimmer an pu him doon and haud him doon till he droont. It got that he droont that many o' the young men o' the district that they began tae shun uisin the Gaun Weel as the swimmin place. So the water kelpie wis scratchin his heid how tae attract the young men back. He didnae like tae miss his sport. Yae day - yae fine simmer's day - aboot a hunner yairds abune the Gaun Weel, a beautiful young girl aboot twenty wis paddlin in the shallow water - the smooth rock was nice and warm wi the sun - this shallow water on top o' the smooth rock. An this lass - she must ha been wool-gathering - she didnae hear the river comin doon in a flash flood. Often ye get a fine simmer's day doon in the valley, but up in the mountains ye get a thunder shoor an the river wid rise quickly an come doon [in] whit ye caa a flash flood , jist like a tidal wave. So the young lady didnae hear this comin doon an she wis washed right intae the Gaun Weel an the water kelpie grippit her.
The solution tae his problem was right here, so he chynged her intae a mermaid. On fine simmer days he wad hiv her sit on the Carline Stone an sing her seductive sangs tae attract the young men back tae swimmin in the Gaun Weel. So the young men started comin back, this beautiful young mermaid sittin there singin away. They come back an they swim an the water kelpie, noo and again, he wad grip yin o' the young men an pu him under an droon him. But he wis a bit mair circumspect. He didnae droon them horoyally as he did in the past. He jist picked oot one noo and again an drooned um.
Well, this had beenn gaun on for some forty years. The mermaid had been sittin there every simmer on the Carline Stane singin away. The young man wad be daein their soomin and aye an odd yin wad be gettin droont. An aboot forty year after she'd started the singin on top o' the Carline Stane, there was born on a neighbourin farm, a son. This boy grew up an saw these young men bein droont an saw the distress caused tae the auld mithers an faithers, an he vowed, "When A'm a man," he says, "A'll get rid o' that water kelpie fae oot o' that Gaun Weel."
An this laddie - his by-name was Aiken Kent - an he got the by-name from he'd cut himself an oak club when he was a young f'lla, an he carried this oak club win him everywhere he went. Oak - aiken, an kent wis whit the the old men caaed sticks. Aiken Kent wis Oaken Stick; he got his name fae the club he made. So he got tae aboot the age o' twenty an he decided the time had come when he wad gae roon an dae awa wi this watter kelpie. So doon he goes this fine simmer's day tae the banks o' the Clyde, an the beautiful mermaid's singin away there on top o' the Carline Stane. So he strips aff an tuik a guid grip o' his oak club an dives intae the Gaul Weel. Doon he goes tae the fit an this water kelpie, as sune as saw him, kent the gane wis up. An he says, "Let me go," he says, "an A'll never return again."
"Na, na," says Aiken Kent. "Ye're finished." An he laid in aboot him wi this oaken club an killed the watter kelpie. An he swam up tae the surface an crawled his wey up ontae the Carline Stone, oot o' braith - he'd been under the watter quite a time, haudin his braith, ye ken. So once he got his braith thegither, he gets up an said tae the beautiful mermaid, he says. "Noo if ye could tell me whit A've got tae dae tae bring you back to your natural shape, A'll do that now."
"Oh well," she says. "Aa ye've got tae dae is grasp me in yout airms an kiss ma mou." An she says, "Haud tight," an she says, "Grip me tight and don't let me go," she says, "an A'll change back tae ma natural shape."
So nothin loth, Aiken gets a grip o' her an grasps her in a bear hug an kisses he on the bonny mou, an she wriggles aboot an she changed back to her natural shape. An she changed back intae the ugliest auld carline he had ever seen! An that's hoo the Carline Stane got its name.
Noo if ye think aboot it, she wis twenty year auld when she wis chynged intae a mermaid. She'd been a mermaid for forty years before young Aiken was born, an he wis twenty year auld when he kilt the watter kelpie. So that made her eighty years old and when he changed her back tae her natural shape, she changed back to her actual age, which was eighty! An that's how she wis an ugly auld carline insteid o' the beautiful young girl that he'd expectit tae see when she changed back.
carline = old woman, hag. gaun weel = whirlpool. soomin = swimming. shoor = shower. horoyally = recklessly. by-name = nickname. aiken kent = oak stick. (Apparently, John Rogerson, Joe's uncle, always referred to his shepherd's crook as a kent. fit = foot, bottom. mou = mouth.
'In Celtic story-telling, rivers are magical phenomena possessed of cataclysmic power and often contain supernatural creatures easily given to anger and evil-doing.'
Alistair Moffat, Arthur & The Lost Kingdoms (1999)
It is amazing to see just how many well-known motifs are included in this short story. Firstly, we are given a reason for a local place name. Then we are told of an other-world creature, a kelpie, who drowns human swimmers for his own pleasure. This creature then transforms a girl into a mermaid, who acts as a siren to lure others to their death. The girl is rescued by a young hero who kills the kelpie (using what may, at one time, have been a magical club) and who frees her from the kelpie's spell by way of a kiss.
Stories concerning the origins of place names abound throughout the world, as do stories of magical transformation. Kelpies and mermaids, on the other hand, are associated with Celtic folktales from Ireland and the west of Scotland; whereas the Sirens originally lured sailors to their deaths in ancient Greece, the home, also, of the hero Theseus who slayed the Minotaur. Interestingly, the Minotaur lived in an underground labyrinth - shades of the kelpie's underwater home - and was killed with a magical club that Theseus wielded. And, of course, the mermaid was released from her enchantment by a hero's kiss, as was the princess in the fairy-tale Sleeping Beauty.
14 William and Lady Marjorie (Willie and Lady Maisry - Child 70, Roud 198)
Sweet Willie was a wedow's son,
And he wore a milk-white weed, O.
Aye and weel could Willie read and write,
Far better ride on steed, O.

Lady Marjorie was the first lady,
That drank to him the wine, O.
Aye and aye as the healths gaed roun and roun,
Says, "Laddie, your love is mine, O."

"For it's you must come, my booer within,
When the evening bells do ring, O.
And it's you must come, my booer within,
When the evening mass doth sing, O."

He has put yae foot upon the wall,
The ither on a stane, O.
Aye and he's killed aa the king's life's-guairds,
He has killed them every ane, O.

"Oh open, oh open, Lady Marjorie,
Open and let me in, O.
For the weet weets aa my yellow hair,
And the dew draps on my chin, O."

Wi her feet sae sma an neet,
She walked her booer within, O.
Aye an with her fingers lang and small,
She has looten Willie in, O.

She louted doon unto his foot,
Tae lowse sweet Willie's shuin, O.
But the buckles were sae stiff they wadna lowse,
The blood had frozen in, O.

"Oh Willie, Oh Willie, I fear that thou
Hast bred me dule and sorrow.
The deed that thou has done this night,
Will kythe upon the morrow."

It's noo this couple tae bed are boun,
Tae tak their pleasures there, O.
And it's lang ere lang aa the play was ower,
And Willie he slept soun, O.

It's in there cam her auld faither,
Wi a braid sword by his gair, O.
Aye an he's gien Willie, the widow's son,
A deep wound and a sair, O.

"Lie yont, lie yont, Willie" she says,
"Your sweit weets aa my side, O.
Lie yont, lie yont, Willie," she said,
"For your sweit I downa bide, O."

She has turned her back unto the waa,
Her face unto the room, O.
And it's there she saw her auld faither,
Fast walkin up and doon, O.

"Oh wae be tae you, faither," she said,
"And an ill deid might ye dee, O.
For ye've killed Willie, the widow's son,
And he would hae mairrit me, O."

She has turned her back unto the room,
Her face unto the waa, O.
And wi a deep and heavy sigh,
Her hairt did brak in twa, O.

booer = bower. looten = let. louted doon = bent down. lowse = loosen. kythe = show. gair = side (of clothes). sweit = sweat. deid = death.
Joe learnt William and Lady Marjorie from Ned Robertson and he remembers Ned saying that he, in turn, had learnt the ballad from his father who had picked it up in the vicinity of Selkirk, where he had once worked as a shepherd. Joe believes that the ballad is set in the area around Selkirk - possibly at Thirlstane Castle, in Lauderdale, to the north-east of Selkirk - although Professor Child makes no mention of a possible location in his short note to the ballad. Child does, however, comment that it has much in common with another ballad, Clerk Saunders (Child 69), except for Willie's killing of the King's guards.
Joe also believes that the first verse suggests that Willie is some kind of monk - he wore a milk-white weed, a reference to the Cistercians, perhaps? - and that mention of his ability to read and write may mean that the ballad predates the middle of the fifteenth century, when it became the law in Scotland for the eldest son of a landowner to attend school. Prior to that date, only the clergy, in general, were literate.
Joe's tune is a slowed-down version of the one that he uses for the song Oor Young Lady.
15 The Auld Man's Fareweel (Roud 8545)
It's fare ye weel ma auld wife,
Sing bum bee berry bum.
Fare ye weel ma auld wife,
The steerer up o' sturt and strife.
The maut's abuin the meal the nicht,
Wi some, some, some.

And fare ye weel ma auld meer,
Sing bum bee berry bum.
Fare ye weel ma auld meer,
A fit for me ye wadna steer.
The maut's abuin the meal the nicht,
Wi some, some, some.

And fare ye weel the auld toon,
Sing bum bee berry bum.
Fare ye weel the auld toon,
It's there she aft-times played the loon.
The maut's abuin the meal the nicht,
Wi some, some, some.
And fare ye weel ma pike staff,
Sing bum bee berry bum.
Fare ye weel ma pike staff,
Nae mair wi you my wife I'll baff.
The maut's abuin the meal the nicht,
Wi some, some, some.
sturt = trouble. the maut's abuin the meal = he's drunk. meer = mare.
The Auld Man's Fareweel was included in volume 2 of David Herd's Ancient and Modern Songs (first published in Edinburgh in 1769) but, like most of Joe's songs and ballads, has seldom been seen since. It was yet another of John Rogerson's songs.
A Select Bibliography & Discography of Scottish Balladry and Folktales
Ballads:
Books:
David Buchan, The Ballad and the Folk. Routledge & Kegan Paul, London. 1972.
Sheila Douglas, The Sangs the Thing. Polygon, Edinburgh. 1992.
Sheila Douglas, Come Gie's a Sang. The Hardie Press, Edinburgh, 1995.
Gavin Greig & James B.Duncan, Folk Song Collection. Volumes 1 - 4. Aberdeen University Press, 1981 - 1990. Volumes 5 - 6. The Mercat Press, Edinburgh. 1995. Volume 7. The Mercat Press, Edinburgh. 1997.
Hamish Henderson, Alias MacAlias. Polygon, Edinburgh. 1993.
James A.Mackay, Robert Burns. The Complete Poetical Works. Alloway, Darvel. 1993 (Reprinted 1997).
Roy Palmer, A Book of British Ballads. Llanerch, Felinfach. 1998.
James Porter & Hershel Gower, Jeannie Robertson - Emergent Singer, Transformative Voice. Tuckwell Press, East Linton. No Date.
Records:
Anthology: The Muckle Sangs - Classic Scots Ballads. Greentrax CDTRAX 9005.
Anthology: Up in the North...Down in the South. Musical Traditions MTCD311-12. (Especially for Willie Beattie).
Anthology: Heather and Glen. Ossian OSS62.
Anthology: Classic Ballads of Britain & Ireland. Vol.1. Rounder 1775.
Anthology: Classic Ballads of Britain & Ireland. Vol.2. Rounder 1776.
Anthology: The Bothy Songs and Ballads of North East Scotland. Vol.1. Sleepytown SLPYCD001.
Anthology: The Bothy Songs and Ballads of North East Scotland. Vol.2. Sleepytown SLPYCD006.
Anthology: North East Traditions Vol.1. Springthyme SPRC 1040.
Anthology: The Voice of the People Vol.3. O'er His Grave the Grass Grew Green - Tragic Ballads. Topic TSCD653.
Anthology: The Voice of the People Vol. 17. It Fell on a Day, A Bonny Summer Day - Ballads. Topic TSCD667.
Daisy Chapman, Ythanside. Musical Traditions MTCD308.
Jock Duncan, Ye Shine Whar Ye Stan! Springthyme SPRCD 1039.
Lizzie Higgins, Princess of the Thistle. Springthyme SPRC 1020.
Jimmy McBeath, Wild Rover No More. Springthyme SPRC 1020.
Jeannie Robertson, The Great Scots Traditional Ballad Singer. Ossian OSSCD92.
Jeannie Robertson, Queen Among the Heather. Rounder 1702.
Willie Scott, The Shepherd's Song. Greentrax CDTRAX 9054.
Alex, Belle, Cathie & Sheila Stewart, The Stewarts of Blair. Ossian OSSCD 96.
Belle Stewart, Queen Among the Heather. Greentrax CDTRAX 9055.
Lucy Stewart, Traditional Singing from Aberdeenshire. Greentrax CTRAX 031.
Davie Stewart, Davie Stewart. Greentrax CDTRAX 9052.
Jane Turriff, Singin' Is Ma Life. Springthyme SPRCD 1038.
Duncan Williamson, Put Another Log on the Fire. Veteran Tapes VT128.
Folktales:
Books:
Alan Bruford (Ed), The Green Man of Knowledge and other Scots Traditional Tales. Aberdeen, 1982.
A.J.Bruford & D.A.MacDonald, Scottish Traditional Tales. Polygon, Edinburgh. 1994.
Katherine M.Briggs, A Dictionary of British Folktales and Legends. Routledge & Kegan Paul, London. 1977.
Betsy Whyte, The Yellow on the Broom. Edinburgh, 1979.
Betsy Whyte, Red Rowans and Wild Honey. Edinburgh, 1990
Duncan & Linda Williamson, A Thorn in the King's Foot. Penguin, Harmondsworth. 1987.
Duncan & Linda Williamson, The King and the Lamp. Canongate, Edinburgh. 2000.
Records:
Anthology: Scottish Traditional Tales. Greentrax CDTRAX 9017D.
Sheila Stewart, And Time Goes On. Offspring OFFCD 00101.
Duncan Williamson, Mary and the Seal. Springthyme SPRC 1019.
The Credits:
The foregoing text was written by Mike Yates, who also made all the recordings and took the photos. My sincere thanks to Mike, and to everyone who has helped to make this project a reality …
Firstly to Joe and Jean Rae - for all their help, hospitality and support for this project.
Sheila Douglas - whose books first introduced Mike to Joe, and who not only kindly undertook to check the song transcriptions, but who also offered to transcribe Joe's folktales. Without her help, this CD would hardly have got off the ground.
Roy Palmer - for help with the song notes.
Malcolm Taylor and the staff of the Vaughan Williams Memorial Library, London - for additional notes to the songs.
Steve Roud - for providing MT with a copy of his Folk Song and Ballad Indexes, whence came some of the factual information on the songs.
Booklet: editing, DTP, printing; CD: formatting, digital editing, production - by Rod Stradling, mid 2001

A Musical Traditions Production - © 2001
[Track List] [Introduction] [The Songs] [Bibliography & Discography] [Credits]
Article MT076
Site designed and maintained by Musical Traditions Web Services Updated: 7.7.01