News and Comment
No 24


---
New MT CD-ROM
I'm very pleased to announce MT's publication, in CD-ROM format, of a substantial body of historical Morris Dance research by Keith Chandler. Morris Dancing in the English south Midlands 1660-1900 : Aspects of Social and Cultural History (MTCD250).

Contents: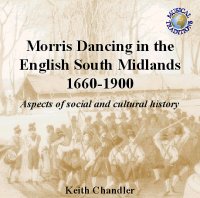 "Ribbons, bells and squeaking fiddles" - the social history of morris dancing in the English south Midlands, 1660-1900
Republication of the complete book, unavailable since 1996, with minor textual emendations and a horde of new photographs, many never before published. A detailed account looking at historical development of the morris dance tradition, contexts of performance, the social and cultural milieu in which it operated, the musicians, detailed case studies of Headington Quarry and Adderbury, and the late 19th century decline and final abandonment. Practically every 'who, why, where, when' question you can think of answered in detail.

Morris dancing in the English south Midlands, 1660-1900 : A chronological gazetteer
Republication of the complete book, extensively revised since its first appearance in 1993. Featuring two 'new' locations, details of many previously unknown dancers, and numerous fresh sources. Complete details on 152 confirmed locations which fielded a dance set during the period covered chronology of performance, names of recorded dancers, potted biographies of hundreds of participants, a comprehensive listing of all known sources. Also included are numerous features which never made it into the hardcopy version for lack of space. These include details of a further 22 locations for which less conclusive evidence of performance activity exists; an extensive chronology of morris dance performance between the dates shown, giving specific details of which side was active when. There are figures depicting activity of both morris sides and the incidence of Whitsun Ales, by decade. For this CD-ROM republication every primary source has been re-assessed and dozens of fresh sources added.

Morris dancing in the Forest of Dean
A substantial piece of research never before published in any form. The Dean Forest equivalent of the 'Chronological gazetteer' listed above, giving details of a score of dance sides in the forest.

Articles republished here (many of them in revised form) include two substantial and several shorter pieces on the morris at Bampton; shorter pieces on Chipping Campden, Ilmington, Oddington, and other locations; three long articles detailing the life and playing career of four 19th century morris dance musicians; obituaries for a number of 20th century dancers, which offer historical information on more recent activity, unavailable elsewhere; and a lengthy piece on the Adderbury Morris fool William 'Old Mettle' Castle (1793-1841), told almost entirely from contemporary sources.
This is the hardcopy equivalent of about 700 pages, complete with maps, charts, dozens of rare, even unpublished, photographs, and even a few sound clips. All for the paltry sum of £12.00 inc p&p, available only from the address below.
---
Corofin Traditional Festival 2002
8th – 10th March, Corofin, Co Clare (8 miles north of Ennis)
The festival consists of outdoor street entertainment on the Corofin Comhaltas Festival stage, Saturday morning instrument classes, an acoustic concert in the intimate setting of the local Teach Ceilidhe, and a special festival mass. The main attraction of the festival, however, will be the holding of over 30 sessions in the village's 9 pubs, anchored by more than 50 of Ireland's finest musicians.
Friday March 8
8:00 p.m.
Official Opening by Kieran Hanrahan
8:00 p.m.
Open-air Céilí with the Corofin Ceili Band (special once-off line-up including Tony Linnane, Garry Shannon, Hugh, Colm and Eric Healy, Padraic, Damien and Liam O'Reilly, Dave Sanders, Sinead Heagney to celebrate Festival launch – band appearing on Ceili House on March 2nd).
10:00 p.m.
Pub sessions
Saturday March 9
10:15 a.m.
Workshops in association with Corofin CCE
Fiddle: Tony Linnane, James Cullinan, Yvonne Leahy
Banjo: Kieran Hanrahan
Flute: Niall Keegan, June McCormack, P.J. Crotty
Concertina: Ernestine Healy, Michael Rooney
Pipes: Jimmy Morrisson
Accordion: Ned Kelly, Maurice Egan

1:00 p.m. to late
All-day sessions in pubs.
8:00 p.m.
Acoustic Concert in Teach Ceilidhe. Adm €7.
with Tony Linnane, James Cullinan, Carol Talty, Kieran Hanrahan, Paddy Canny, Michael Rooney, plus many more
Sunday March 10th
11:30 a.m.
Festival Mass
12:00 p.m.
Open-air Ceili with All-Ireland Champions 2001 The Ennis Ceili Band
1:00 p.m. to late
Sessions all day.
Musicians confirmed for festival (subject to some change)
Mick Broderick, Paddy Canny, Timmy Collins, Martin Connolly, Pat Costello, Maurice Coyle, PJ Crotty, James Cullinan, Martin Dermody, Graham Dunne, Maurice Egan, Brian Fitzgerald, Claire Griffin, Freda Hatton, Eric Healy, Colm Healy, Hugh Healy, Ernestine Healy, Nuala Hehir, Michael Hynes, Fabien Joyce, Niall Keegan, Ned Kelly, John Kelly, Laura Kerr, Tony Linnane, Yvonne Leahy, Denis Liddy, John Lynch, Pat Lynch, Conor McCarthy, Anne-Marie McCormack, June McCormack, Maurice McHugh, Marcus Moloney, Jimmy Morrisson, Aisling Mulhern, Aoife O'Connor, Brian O'Dea, Carmel O'Dea, Niamh O'Dea, Cyril O'Donoghue, Noel O'Donoghue, Eoin O'Neill, Padraic O'Reilly, Anthony Quigney, Michael Rooney, John Rynne, David Sanders, Garry Shannon, Carol Talty, Sean Vaughan.
Further info and booking details on the Corofin website: www.corofin.eu.com
---
Two events from the Elphinstone Institute:
The Elphinstone Institute and Woodend Arts Association present a
Traditional Storytelling Weekend - 20-21 April 2002
at Woodend Barn, Banchory, Aberdeenshire
The weekend is a unique celebration, bringing together outstanding storytellers from NE Scotland, the Highlands, Ireland and England, including the Traveller traditions.

The first event of its kind in the area, the festival is especially for those who like to hear and tell stories, and enjoy a ceilidh atmosphere, which includes songs and music. Informal and friendly, it will be just the place to encourage less experienced storytellers, as well as welcoming old hands. The weekend includes workshops, storyrounds, expert talks, and ceilidhs featuring the guests.
From North East Scotland:
Stanley Robertson, Sheena Blackhall, Lorna Alexander, Bunty Penny, Jackie Ross, and Sandy Stronach

From the Highlands
Bob Pegg and Alec John Williamson

From Ireland
John Campbell and Len Graham

Talks
Dr Mairi MacArthur on Gaelic Storytelling
Prof Bill Nicolaisen on Contemporary Legends
For more details and to book, contact The Elphinstone Institute, University of Aberdeen, Tel 01224 272996, e-mail elphinstone@abdn.ac.uk or Woodend Barn Arts Centre, Tel 01330 825431.
---
The Traditional Singing Weekend - 28-30 June 2002
at Cullerlie Farm Park, Aberdeenshire
A festival to celebrate the singing traditions of North-East Scotland, Orkney, England, and Ireland in the unique setting of Tom and Anne Reid's farm in rural Aberdeenshire

Guests include:
Mick Quinn - Mullaghbawn, N. Ireland
Patricia Flynn - Mullaghbawn, N. Ireland
Jeff Wesley - Northants, England
Vic Legg - Cornwall, England
Jock Duncan - Perthshire, Scotland
Margaret Bennett - Edinburgh (originally Isle of Skye)Scotland
Jim & Kate Taylor - Aberdeenshire, Scotland
Danny Couper - Aberdeen, Scotland
Billy Budge - Hoy, Orkney
Janice and Kathleen Clark - Aberdeen, Scotland
and, of course, our hosts Tom and Anne Reid.
The weekend is a unique celebration, bringing together outstanding traditional singers from the North East of Scotland, Orkney, England, and Ireland. The event is especially for those who like to hear, enjoy, and join in traditional singing. Essentially informal, friendly, and non-competitive, it will be just the place to encourage the young and less experienced as well as the old hands.

The weekend includes:
Ceilidhs featuring the guest singers.
Singarounds for everyone who wants to join in.
A Talk on 'Highland Folkways' by Dr Margaret Bennett.
Workshops:

Writing Bothy Ballads (Sheena Blackhall)
Waulking Songs (Margaret Bennett)
Farmhouse Cooking (Anne Reid)
Farm Museum Tour (Tom Reid)
Clipping and Sheepdog Demonstration (Colin Riach)
Quilting (Daisy Kennedy)
Food will be available over the weekend. There will be no bar - BYOB. Camping and caravanning can be booked free of charge. There are many B&Bs in the area - for a list, contact the Tourist Information at Banchory 01330 822000 or Aberdeen 01224 288828.

For more details and to book, contact The Elphinstone Institute, University of Aberdeen, Tel 01224 272996, e-mail elphinstone@abdn.ac.uk
---
Cellar Upstairs club dates:
The club meets on Saturdays at 8.15pm at the Golden Lion (a proper pub), on the corner of Royal College Street and Pratt Street, London NW1 (near Camden Town tube and Camden Road railway station)

As they have a number of performers in the current session who might interest MT readers, I thought I'd include a listing.
5 Jan: Copper Family
26 Jan: Moira Craig and Annie Power
9 Feb: Chris Wood
16 Feb: Norma Waterson and Martin Carthy
23 Feb: Ray Fisher and Colin Ross
4 May: Tom Paley
11 May: The President's Men
25 May: Ballad Evening: Peta Webb, Ken Hall and Andrew King
Contact: Sheila Miller at:Sheila.Miller@bauer.co.uk Tel: 020 7281 7700
---
George Dunn: Chainmaker double CD now out
As announced in the last Editorial, the new George Dunn double CD, Chainmaker (MTCD317-8) is now available. This great Black Country singer was recorded in the early seventies by Roy Palmer, Ewan MacColl and Peggy Seeger, and Charles Parker. The CDs contain 51 tracks and are accompanied by a very substantial booklet written by Roy Palmer. Details and an order form can be found on our Records page and, as usual, the CDs' Booklet Notes appear as an Article in these pages. Price is £16.00 inc p&p.

Also, Volume 3 of The Complete Musical Traditions CD-ROM is now out, containing the entire output of the magazine - from the articles in the 'paper' editions of the magazine of 1983 onwards, right up to the last files uploaded to the Website on December 31st 2001. It's an ideal way of accessing the bulk of MT without having to go online, contains a number of articles still not available on the Net, has all the sound clips, saves you a load of disc space (over 108Mb), and only costs a tenner!
---
Bob Copper's Birthday
As it turned out, I got back from Ireland last Thursday in time to be at Bob Copper's birthday do at the Royal Oak in Lewes. He was in great form in every way, singing, anecdotes, downing his pints of Harvey's Best, and the grandchildren joined him on many of the songs. Wonderfully uplifting, somehow.

Shirley Collins said that Steve Bassam, now Lord Bassam of Brighton, had taken up the challenge of trying to get an honour for Bob and that they had both been invited up to the Lords. It'll probably be more of a culture shock for the House of Lords than for Bob!

Bob Lewis was there as well, and singing quite beautifully. It's sometimes easy to forget just how lucky we are in Sussex.

Roger Johnson - 8.1.02
---
Malcolm Taylor OBE
Many people I've spoken to have been delighted to read that the Vaughan Williams Memorial Library's hard-working and long-serving Librarian, Malcolm Taylor, has just been awarded an OBE in the New Year's Honours, for 'Services to the VWML'.

As one who has been the grateful recipient of these services, both as an individual and an Institution, over many years, I would like to add my voice to all those who've said "Couldn't have happened to a nicer chap!" But, nice chap though he clearly is, Malcolm's far more than that - I can't think of anyone in a similar position who has been so consistently helpful and co-operative with anything I've ever asked of him.

He says he's had just about every quip under the sun in the past couple of days, and a huge amount of warmth. The announcement was quite a shock to him, but when he found out that it had been generated by the Library users over the past 18 months or so (i.e. not by the EFDSS per se) it all of a sudden meant a very great deal.

His comment to me was "I've been discussing appropriate clothing for the Palace with Lord Carthy. Can you imagine!!! Anyway, up the workers!"

Rod Stradling - 5.1.02
---
Nathan and Anthony Orchard killed in car crash:
Some truly shocking news: the most musically active of Tom and Jean Orchard's four sons, Nathan (aged 19) and Anthony (aged 17) were killed on Friday 14th December in a car crash near Stratton, north Cornwall, whilst on their way to work.

Nathan and Anthony were well-known to all at South Zeal and to those who attended the Dartmoor Folk Festivals every August. Nathan leaves a wife, Leo and a one-month old son, also named Nathan. The funeral is at St Peter and St Paul's church, Holsworthy, Devon, on Friday 21 Dec at 1pm. Very sad news indeed. Our sympathies to all the family and friends.
---
Kevin and Ellen Mitchell: Have a Drop Mair - double CD
I'm very pleased to announce that our last CD release for 2001, Kevin and Ellen Mitchell: Have a Drop Mair (MTCD315-6), is now available. The ideal Christmas present for almost everyone, I would have thought! Why not order your copy now and be sure of getting it on time. Details and an order form can be found on our Records page and, as usual, the CDs' Booklet Notes appear as an Article in these pages. Price is £16.00 inc p&p.
---
Musical Traditions Club dates for the New Year:
King & Queen, Foley Street, London W1 - Junction of Foley Street/Cleveland Street. Nearest tube Goodge Street.
Monthly, Fridays
Friday 25th January
Anne Martin, singer, and Ingrid Henderson, clarsach. Two excellent young performers in the Scots Gaelic tradition, from The Isle of Skye.
Friday 15th February
Donal Maguire - traditional songs, ballads and music.
Friday 15th March
Judy Cook and Fred McCormick - from Virginia and Merseyside.
Friday 5th April
Tim Eriksen - US traditional songs and ballads; many from the Warner Collection.
Information: Peta Webb - 020 8340 0530 or petawebken@aol.com
---
The 3rd Jimmy McHugh Memorial Concert
Saturday 12th January 2002 - Mitchell Theatre, Granville St, Glasgow
Starts 8pm, all tickets £8
Artistes appearing:
Paddy Glackin - Fiddle (Donegal)
John Regan - Accordion (Sligo)
Catherine McEvoy - Flute (Meath)
Padraig Kinsella - Accordion (Offaly)
Nora Butler - Singer (Tipperary)
Geraldine Cotter - Piano (Clare)
Also appearing are artistes from previous years, including Eileen O'Brien, Nuala Hehir, Pat Bass, Robert Gleeson, Deirdre McSherry, members of the Kinsella family, and many more.
Tickets available from:
Brendan McHugh 0141 569 3557 or 07855 292062
Ann McHugh 0141 562 5421 or 0141 647 3791
Ticket Centre, Candleriggs, Glasgow 0141 287 5511
There will be sessions over the weekend both in Jury's Hotel and Sharkey's Bar with visiting musicians from Ireland, England and all over Scotland.
---
Sardinian cantu a tenores CD rescued from oblivion:
Not content with rescuing the amazing Rice Girls CD and the hard-to-get Barn Dance one, Snatch'd from Oblivion Records have now made a grab at the wonderful Sardinian cantu a tenores CD which we've been making available to afficionados for some time - just as it was spinning down the plughole of history. Sard Polyphonies is available from our Records page at only £5.00, and is a 78-minute compilation of the superb 1979-91 benchmark field recordings of the cantu a tenores genre, and Sardinian sacred coro polyphony. And it has a 12-page booklet in English.
---
Royal Oak Club dates:
Royal Oak, Station Street, Lewes, East Sussex - Thursdays
Nov 29 - Andy Irvine
Dec 13 - Tim Laycock
Jan 3 - Bob Copper's Birthday Party
Jan 10 - Jeff Davis
Feb 14 - Kevin Mitchell & Ellen Mitchell
Mar 14 - Peta Webb, Ken Hall & Fred McCormick
Apr 11 - Jimmy Crowley
May 16 - Bayou Seco
Further info at: http://www.users.globalnet.co.uk/~tinvic
---
Correspondence:
Rod Stradling - e-mail: rod@mustrad.org.uk Tel: 01453 759475
snail-mail: 1 Castle Street, Stroud, Glos GL5 2HP, UK

Site designed and maintained by Musical Traditions Web Services Updated: 10.2.02