Patrick Kelly
Patrick Kelly from Cree: Fiddle Music
The Family of Patrick Kelly PFKC 001
Patrick Kelly (1905-1976) was one of those musicians whose reputation has far outstripped the number of recordings he made. Indeed, as far as I am aware, the only commercial recording in which he participated was Ceol an Chlár (CL 17) for Comhaltas Ceoltóirí Éireann in the mid-1970s and even then he was but one of five featured musicians (an album, by the way, which, according to Séamus Mac Mathúna's liner notes is due to be reissued in 2005).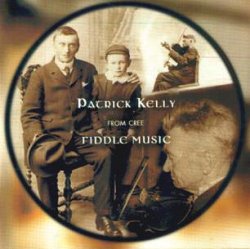 Indeed Patrick's nine tracks on Ceol an Chlár were recorded by Mac Mathúna, though listeners to Seán Ó Riada's radio programme, Our Musical Heritage, would already have been familiar with Patrick's playing.
So it is with great thanks and much delight that this CD has been released by his family. The music on Patrick Kelly from Cree was recorded by Tom Kelly (one of Patrick's sons and the groom in the wedding photograph which appears in the liner booklet) during the 1960s, though presumably the tapes were mislaid since the tray-liner carries a message of 'special thanks to Monsignor O'Dea of Tullabrack, Co Clare and Long Island, New York, for preserving the original recordings'.
The twenty-four tracks on Patrick Kelly from Cree are all unaccompanied, apart from the occasional sound of the fiddler's feet tapping. Patrick preferred to play tunes singly, a factor reinforced possibly perhaps by his resistance to the influence of recorded music (as Barry Taylor notes in another part of the liner). Whatever the case, his fiddle possessed the most beautifully plangent tone and his music has a wonderfully rolling gait.
Patrick was taught by his father Tim who, in turn, had acquired much of his own musical knowledge from a travelling fiddler from Kerry, one George Whelan. Said Whelan's pedagogy apparently included teaching 'individual bowing patterns for specific tunes', a practice which Patrick himself learnt from his father. However, as Barry points out, he abandoned this and developed his own style of using short bow strokes, mixing these with longer strokes and rolls, and at times he also seems to slide his finger down the string for added effect. Certainly, the sense of the tune and its rhythm are never lost and, if anything, Patrick's style actually seems to enhance the listener's appreciation of the melody.
He was also experimental in his use of tunings, sometimes opting for the open G/D/G/D or A/E/A/E which offer the scope to employ a droning effect (perhaps once in imitation of the uilleann pipes). It is in the second of those tunings that he plays The Foxhunter's (sometimes Foxhunters) reel, track twelve on the album, which will be familiar to many readers from a variety of available recordings, but Patrick was categorically the source of the tune.
As one might expect from a Clare recording reels and jigs dominate Patrick Kelly from Cree. Indeed there are fourteen of the former (including a very fiery version of Drowsy Maggie), plus five of the latter. It is unclear why the hornpipe has been less favoured in the county, but there is only one example on this album, The Liverpool, which also appears on the RTÉ recording of Elizabeth Crotty, Concertina Music from West Clare, a reference worth making since Patrick Kelly would occasionally cycle the dozen or so miles to Kilrush for a round of tunes with the venerable Mrs C. He was also wont to visit the McMahon house near the Kelly family farm, though this family did not include the concertina player Tommy of the same name who recorded Clare Concertinas with Bernard O'Sullivan, but the latter did live near the Kelly family.
From the opening Bonny Kate to the closing The Mason's Apron (a distinctly personal rendition) Patrick Kelly from Cree is a glorious testimony to a fiddler who clearly possessed the draoícht. His family should be both very proud of Patrick's legacy and we, in turn, should congratulate and thank them for ensuring a wider audience for his wonderful music.
Apart from the previously mentioned notes by Messrs. Mac Mathúna and Taylor, the accompanying liner also includes a selection of photographs from the Kelly family's collection. Patrick was obviously not one for smiling for a photographer, but his music will certainly brighten your day!
Though the CD is available from shops such as Custy's in Ennis, it can also be purchased directly from Barry Taylor (barryriley@eircom.net). The latter method ensures a better return for the family.
Geoff Wallis - 12.10.04
Site designed and maintained by Musical Traditions Web Services Updated: 12.10.04